silver-screen starlet or mad scientist?
I've been a student for so long that the idea of decor is often "what kind of couch can we land for under $20?" and "do you suppose we can paint the walls?", and it's getting a bit tiresome. I've been hanging out at Apartment Therapy for years now, looking at the gorgeous spaces other people have put together. Granted, a lot of them are expensively and professionally put together, but many others are outfitted in Ikea and Craigslist finds, together with ingenuity and elbow grease. That should be accessible even to us.
I'm going to be a grownup now, at least moreso than before, with a job and no pesky designation of "student" to keep me down, and with Sean and Angus firmly in the "mature student" category now, I think that we can safely venture beyond student decor and into the murky territory of chic-on-a-budget. Angus and I are both design nerds, and Sean, while not being a nerd, is definitely a fan of clean cut and elegant interiors and is willing to support our quest, wherever it may take us.
So I'm sort of thinking of going classier with the new place. There are a couple of styles I am really into, and they have a lot of points of similarity. Disclaimer: I know we are doing this uberbudgetstyle, but it can be done.
1.
Hollywood Regency
: bright colours, Victorian or Neoclassical furniture mixed with modern, clean lines, chandeliers, Chinosierie.
2.
Steampunk
(also an article
here
): Victorian furniture with lots of warm colours, dark wood and brass hardware, with a fantasy twist. Pulleys, gears, and just generally really H. G. Wells; industrial pieces with beads and leather touches. Think the Golden Compass, Sky Captain and the World of Tomorrow, A Series of Unfortunate Events.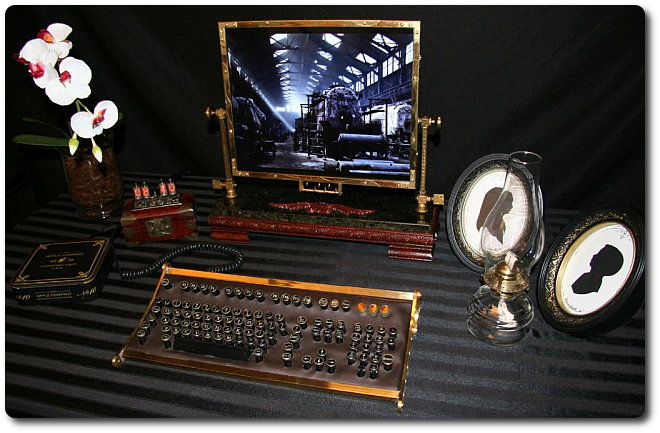 I'm favouring steampunk at the moment, because it's not hard to pull off on a budget with creativity, brass contact paper, and a hardware store. It's also comfortable-feeling, like a library - burgundy and forest green and browns. I'd never bother in this apartment, as it's kind of dark already, but the new place has huge amounts of light, and the eccentric angles of the ceiling, mixed with stained glass windows, give us a lot to work with.
Assuming we are willing to bargain hunt and craft our way to a final product... what do you think?