I have a problem
...and not just that I'm clearly insane for thinking these socks were a good idea. Nor that I'm a horrible photographer. No:
This sock, while insane and silly in scale and colour, is still awesome, except that it doesn't. quite. fit. right.
I can't tell you how much this bothers me. You see, knitting socks is a pretty long process, and I would have liked to have been smart enough to not mess up something that I've put so much time into.
And, of course, my choice of colourway/pattern was not very inspired. Both awesome, but this pattern is supposed to look like this: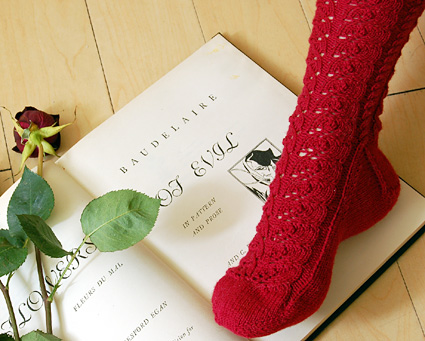 See the nice pronounced pattern, the delicate eyelets? Not so much on my silly sock.
So. The dilemma is this: do I throw all remaining sanity to the wind and actually knit the mate, or do I salvage the remaining awesome yarn and knit something more appropriate, like a standard sock with a kicky picot edging to it, or a simple lace pattern like
this
that will stand out regardless of the rainbow silly? Frogging the first one and knitting a perfect pair is beyond my abilities. If I make a mate, do I make it fit or do I make two matching but slightly offkilter socks?
Decisions, decisions.
Meanwhile, I have
this one
and
this one
taunting me, and more than a couple others I wouldn't mind tackling.
I'll try to take better pictures of the One Sock, but... guidance? opinion? advice?